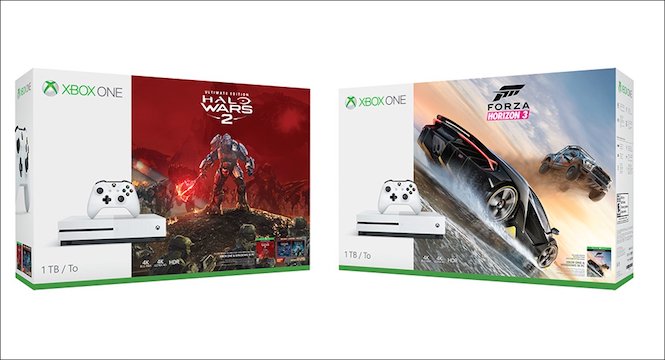 "The company has revealed that the Halo Wars 2 Ultimate Edition bundle and the Forza Horizon 3 bundle will make their way to retail soon, each packing an Xbox One S console, as well as other goodies.
Both systems come with white-colored consoles and controllers, but there are different details about each.
The Halo Wars 2 bundle, which is now available for pre-order and releasing on February 17th, will go for $349.99 and includes a copy of Halo Wars 2: Utimate Edition, along with a 14-day trial membership to Xbox Live Gold, so you can hop in and try out the service.
Meanwhile, the Forza Horizon 3 bundle is available today, and going for either $349.99 for a 1TB model, or $299.99 for a 500GB model. It includes a digital download of Forza Horizon 3 (standard edition), along with a controller, the system, and a 14-day Xbox Live Gold trial of its own."
Text quoted from http://wwg.com/2017/01/23/two-new-xbox-one-s-bundles-coming-soon/