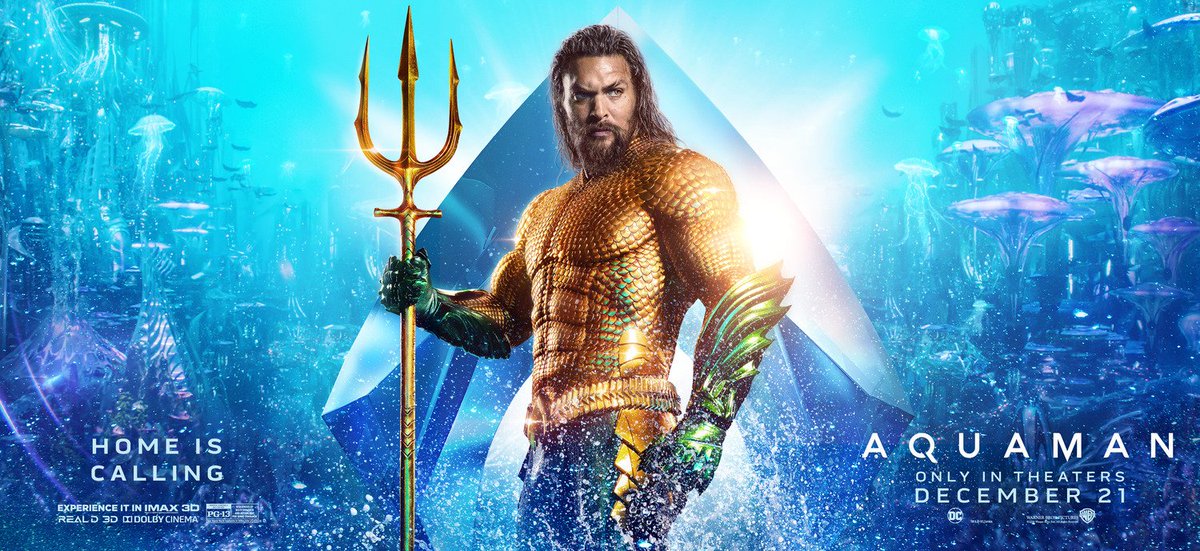 I'll admit that my expections about this film were HIGH. Jason Momoa, DC and an under water world that I'd explore if I could.
The HYPE was at max and overall better received than MAN OF STEEL, BATMAN VS SUPERMAN or JUSTICE LEAGUE; all of them DC's EXTENDED UNIVERSE- films. WONDER WOMAN is the only exception and still 'till this day ranks higher than all other movies.
The story may be familliar to those who have read comics, but I am a newby when it comes to AQUAMAN. I LOVED the STORY. What's even nicer is that there are some BIG NAMES that make appearance in the film. You'll get it when you see it.
The under water effects are MIND BLOWING making it a living world. Something nice is that the movie switches settings, which is fully understandable given the fact that ARTHUR is THE KING that'll unite both worlds and for the plot's development.
THE FINAL BATTLE between the kingdoms of the seas is great. Had tons of COOL stuff going on. The SHOWDOWN between brothers was SATISFYING. ARTHUR's(JASON MOMOA)suit is AMAZING. I don't know how to PRAISE IT better than that. And he accepted the challenge to get the trident like a TRUE KING would and he TRIUMPHED.
The CREATURES OF THE SEA were diverse and some more dangerous than others. The TRENCH are probably the most dangerous beings. THE MAIN SCENE with these deadly creatures is pure eye-candy. They are many.
One of the coolness-factors is that all under water characters DO NOT possess the same powers. For instance: one can talk to other creatures, the other bends water. And that's pretty cool.
NOTE: 8/10
Solid entry to the DC Extended Universe