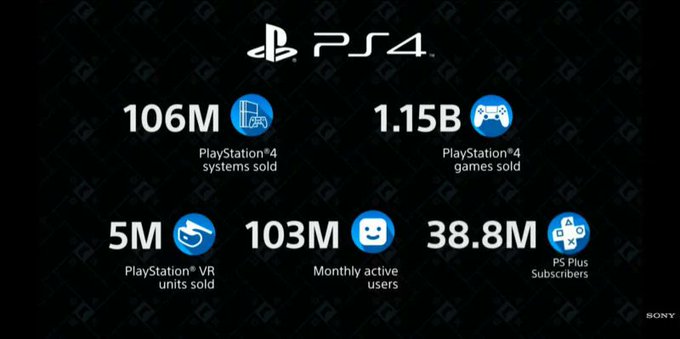 Sony has revealed some amazing stats for PS4.
Released back in November 2013 in US and Canada, followed by Europe and later on Japan on February 22nd, 2014, the PS4 has proven to become another happy story as part of the PlayStation- brand, ushering new generations into a new era of gaming.
PlayStation™Network's (PSN) December 2019 monthly active users have reached 103 million*1, demonstrating that gamers worldwide are enjoying PlayStation®'s offerings. Additionally, the PlayStation®4 (PS4™) console has sold through more than 106 million*2 globally, and the cumulative sales of PS4 software titles from retailers and PlayStation™Store (PS™Store) have reached 1.15 billion*3 as of December 31, 2019.
106 million consoles sold and over 1.15 billion games means that the average PS4 owner owns over 10 titles.
PlayStation VR …. has reached its 5 million unit sales milestone
Another cool milestone, 5 million VR units sold to date. Notable is the fact that it launched as late as October 13th 2016.