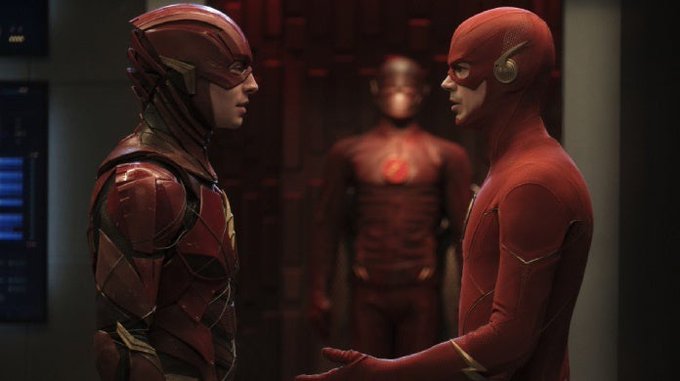 So ever since the Arrowverse premiered its second show – 'The Flash', the shows contained by it have had a cross-over event every season where some were guesting others' shows.
This season's was titled 'Crisis on Infinite Earths' and was the biggest ever, loosely based on the April 1985 – March 1986 crossover comic series, which rebooted the entire franchise at the time.
'Crisis' on TV was unfolded during all DCTV shows with episodes on " 'Supergirl'(5×09), 'Batwoman'(1×09), 'The Flash'(6×09), 'Arrow'(8×08), and 'Legends of Tomorrow'(5×01) on The CW. The 'Supergirl', 'Batwoman', and 'The Flash' episodes aired in December 2019, while the 'Arrow' and 'Legends of Tomorrow' episodes aired in January 2020. Additionally, events in the Black Lightning episode "The Book of Resistance: Chapter Four: Earth Crisis", airing between Batwoman and The Flash, and a two-issue comic featuring characters and concepts not able to appear in the live-action episodes, tie into the event."
Source for cursive marked text: https://en.wikipedia.org/wiki/Crisis_on_Infinite_Earths_(Arrowverse)
The BIGGEST SURPRISE to the event was a brief cameo from DCEU's 'The Flash' – Ezra Miller – meeting his Arrowverse counterpart – played by Grant Gustin. This makes it clear that even though there are different shows, movies and actors, these works, all based on DC Comics' universe, are now officially in the same multiverse, on alternate Earths. It's all connected.
We already knew that shows as 'Titans', 'Smallville' and more also are part of the Arrowverse. There were a couple of cameos confirming this. DC fans must be exalted now, as the whole DC Universe feels more stable and got more to offer. Everything is canon, so just enjoy it.
THere were recently also the news that all Arrowverse shows have been renewed for one more season.
This… this awesome moment: