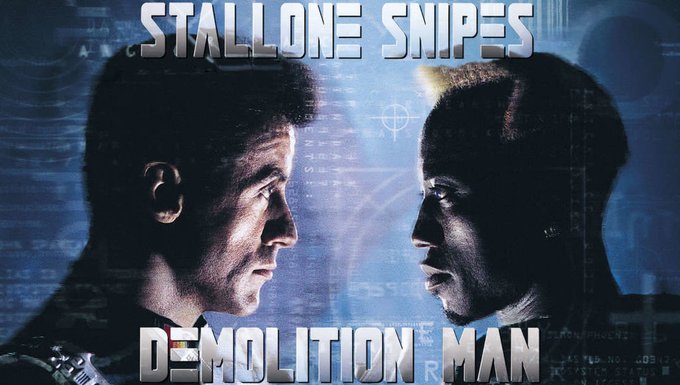 'Demolition Man' (1993) was a face off between the characters portrayed by Sylvester Stallone and Wesley Snipes – a cop against a crook. You may now think that's just a regular action flick, right? Nah, it's more than that. Follow me:
John Spartan (Sylvester Stallone) ends up being tricked by the crime lord Simon Phoenix (Wesley Snipes) into blowing up a building set-up to make it seem as if there still were survivors – their bodies being found afterwards.
Because of this, Spartan is charged with involuntary manslaughter and sentenced to a 70 year long cryogenically freeze in a new prison. Phoenix is also frozen. Thirty-six years later, he is being unfrozen for a parole hearing.
To make it short: the crime lord goes on a rampage in the city, and that's a big problem because the society has evolved and there are no longer such crimes taking place with the police unknowingly how to act and use violence.
So they need Spartan back because he was the one to catch Phoenix. He is also unfrozen and assigned the task to stop the crime spree.
A young Sandra Bullock plays one of the supporting roles.
Source: https://bloody-disgusting.com/movie/3615236/looking-fantastic-sylvester-stallone-teases-demolition-man-sequel-works/